The Care You Deserve
As a compounding pharmacy, we specialize in the art and science of combining raw drug as well as other chemicals to make individualized medications for our patients. Our compounding pharmacists work closely with the patient and their physicians to prescribe the ideal medication based on the individual needs of each patient.Integrative Pharmacy and Wellness is now proud to offer these services to patients in Baton Rouge and surrounding areas. We have a highly trained and experienced staff that works with your doctor to create personalized medications for various patient needs. Areas of specialty include dermatology and anti-aging, bio-identical hormone replacement, pediatrics, veterinary, gastrointestinal therapies, wound treatment, and topical treatments for pain.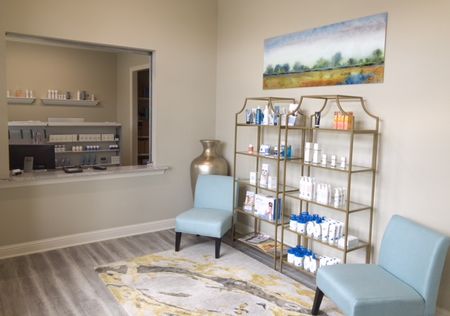 Beverly A. Hawkins, R.Ph.
Beverly is graduate of Xavier University of Louisiana and has 36 years of pharmacy experience. The personalization that comes with compounding is where she finds the most satisfaction in what she does. "I am passionate about helping people and providing tools to their wellness goals."
Integrative Pharmacy and Wellness
The foundation of compounding pharmacy is based on the relationship between the prescriber, pharmacist, and patient working together to achieve results tailored to the specific patient's needs. Compounding pharmacies are seeing a resurgence. What used to be the local pharmacist, who generations ago concocted remedies for the sick, has now evolved into a specialized niche in pharmacy that focuses on the unique needs of the patient.
When prescribers send prescriptions to a compounding pharmacy, the medications are made from raw ingredients. "We can compound a drug for a patient when the commercially available product is not a viable option for them," says Beverly A. Hawkins, R.Ph., the Pharmacist in Charge at Integrative Pharmacy and Wellness. "At this point we can work with the patient's prescriber to create a solution to their problem."
Allergies or intolerances to substances such as gluten, lactose, and dyes are becoming increasingly common, Beverly says, yet those substances are found in many commercially available medications. In these cases, the compounding pharmacy can substitute ingredients to ensure the end-product is tailored to their unique needs. Integrative Pharmacy and Wellness also offers over the counter, gluten-free skin, and hair care lines. Pharmaceutical grade vitamins, many of which are free of gluten and other common allergens are also available, which Hawkins says is reassuring to patients who have allergies and must be cognizant of what they are putting into their bodies.
"Using the highest quality ingredients and resources available, we are able to formulate different dosage forms of medications that aren't commercially available," says Hawkins. "For example, a patient who may not be able to swallow pills, we can often work with your prescriber to create a liquid formulation, dissolvable tablet, or in some cases, a topical version that is absorbed through the skin."
Integrative Pharmacy and Wellness services all fields of medicine, including dermatology, anti-aging, bio-identical hormone replacement for men and women, pain, pediatrics, geriatrics, and sports medicine. "We even work with veterinarians to create medicine for pets in appropriate dosages, dosage forms and with ingredients that are not harmful to the specific type of pet we are treating," Beverly says.
"There is almost always a solution to a problem," Beverly says. Being able to offer individualized service and solving problems is where she finds the most satisfaction in working at a compounding pharmacy. "I talk to every single patient who comes through the door," she says, adding that it is rewarding when customers tell her they are seeing positive results from the medications she custom-made for them.
Coming soon, in the same building with Integrative Pharmacy and Wellness, will be a hair wellness center. It will utilize a trichology scalp program from Italy to treat scalp and hair problems. It will be the first in Baton Rouge to offer a complete, customized program to treat anything from common scalp problems, such as dryness, itchiness, flakiness, and oiliness to severe hair thinning and balding due to underlying genetic or medical conditions. It will also offer a custom hair system for individuals who may not be good candidates for hair transplant surgery.